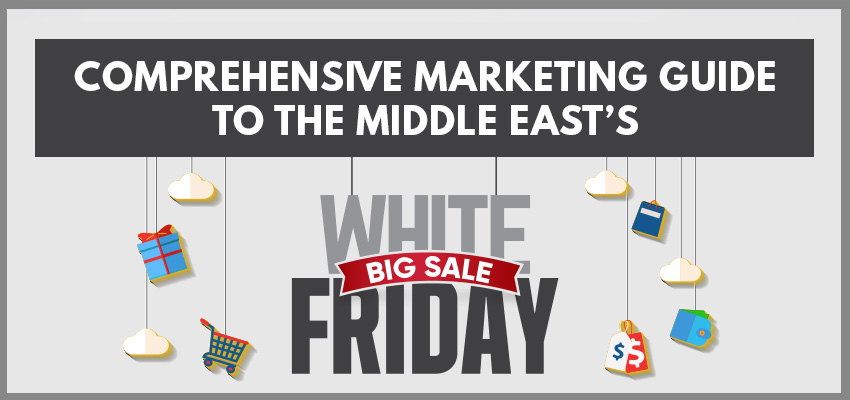 What is White Friday?
In short, White Friday is the Middle Eastern equivalent of Black Friday in the United States. Taking place at the end of November, customers are presented with thousands of sales, deals, and discounts for a variety of desired products by all demographics.
Amazon (formerly Souq) , the largest e-commerce site in the Arab world, first introduced the idea of a grand sale to the region in 2014 as a way of increasing internet traffic and, in turn, their sales. Then CEO and co-founder of the company, Ronaldo Mouchawar, attended university in the United States during which he became acquainted with the wild sales phenomenon that is Black Friday. After witnessing first hand how Americans seemed to go crazy for the discounts and deals, he decided to bring a similar event to the region with his e-commerce company. However, he decided to put a little spin on it. White Friday takes an American tradition and alters it slightly to be more compatible with the region. To create a successful, new regional phenomenon, Mouchawar had to resonate closely with the culture of the Middle East.
Black Friday has an association with Thanksgiving in the United States and, therefore, that could not be the same in the Middle East region where the holiday is not observed. Additionally, Friday is considered a weekend as it is a sacred day of worship in Islam for millions of Muslims from all sects. As black is a colour generally associated with something sad or a tragic event, such as a funeral, a mourning period, or an association with an event, it would not be appropriate or culturally sensitive to imply any sort of negative characteristics with the holy day Friday. White is seen as a positive word suggesting images of goodness and sanctity. Therefore, Souq.com decided to slightly alter the name from the American counterpart to associate it with something positive for Middle Easterners. Mouchawar told Newsweek of this idea: "We wanted to own an event that was not really tied to Thanksgiving as much but more tied to our Friday, our White, which is kind of positive and happy. To announce their new White Friday sales to the region, Home Friday, an online vendor in Pakistan, announced, "In the Muslim world, Friday is the day of prayer, the day of gathering, the day off, the family day, the day of joy, so surely … our Friday is WHITE!"
Which countries participate in White Friday sales?
Mouchawar initially started with customers in several Gulf countries: Saudi Arabia, Kuwait, and the United Arab Emirates, but he expanded to Oman, Bahrain, Qatar, and Egypt. There are even other countries that Souq (now Amazon) does not currently operate in that have adopted the day as well, such as Pakistan. Pakistani merchants have started to replicate similar deals within their own country. White Friday sales are found both on the Internet as well as in classic brick and mortar stores. Additionally, the one-day sale has been elongated to a period of four days.
When is White Friday?
Though it started as merely one day, Amazon and other retailers chose to expand it to four days or more to give people more opportunity to participate in the sales. However, like Black Friday in the United States, it always starts the Friday following Thanksgiving, which is the last Thursday in November. Although it is not necessarily a fixed date, the pattern is always the same. In 2022, the official day is the 24th of November. However, as experience has shown, you can expect the offers to emerge earlier than that so stay alert to advertising act quickly If you see something of interest.
The Financial Promise of White Friday
The site experienced tremendous success after the inaugural White Friday in 2014. In 2015, Souq.com (now Amazon) alone sold 600,000 items and they hit almost double that in 2016 with an estimated 1,000,000 items sold, including 100,000 health and beauty products and 50,000 items within the fashion, apparel, and shoe category.
Mouchawar writes about that time: "Since we launched White Friday in 2014, customers have told us how much they like this deals event, so we are happy to be back this year with more deals and more choice than ever." After witnessing the spike in sales, other companies decided they had to be involved as well. Hundreds of small and medium-sized companies released similar sales in 2015, the year following. This growth is extremely significant because it proves just how fast this trend is growing naturally.
To adequately understand business in the Middle East is to know how to best prepare for this day and the season in which it falls. In the few years since the inception of the day, each year's White Friday has gotten increasingly larger with many more companies, deals, and transactions.
In a region frequently portrayed by the West as ridden with conflict, terrorism, and violence, Mouchawar hopes that his company and White Friday, in general, will inspire entrepreneurs both locally and internationally to create startups that will significantly impact the region's business landscape. By creating this day and deals rather from scratch, he is encouraging people to think outside of the box rather than settling for a more traditional job path. As Mouchawar said, "We are a great success story out of the region… I think this is where our mission in the region is." He says, "To make sure that you can do a lot if you take a risk. You can be successful in this region. People are seeing with mobile, with smartphone penetration and what the Internet can do to empower you, that there are a lot of opportunities, and I think this is a great part of what we do. And this is why White Friday can solidify it."
Marketing strategies:
Respect Local Culture in Your Marketing Messaging.
First and foremost, it is important that marketers be aware of what sorts of messages and products are culturally permissible. Anyone willing to get involved with White Friday marketing should take special care to ensure their ads are always respectful of Muslim culture and traditions. By trying to make a slogan or a picture catchy and attention-grabbing, marketers could inadvertently include something that will offend local people.
Marketers have to remember that Friday is a significant religious day and Muslims feel a strong personal connection to this day that must be respected. All marketing messages should be run past locals "on the ground" to verify if it will not be provocative and thereby ruin the credibility your company has in the region. Examples of things that could be offensive are: calling the sales period "Black Friday," advertising sales on alcohol or other intoxicants, advertising pork, using scantily clad women to sell your products, other impermissible or culturally taboo actions.
Offer LARGE Discounts on Your Products.
It may seem counterintuitive to earn money by discounting your products so much, but the strategy has proven to be effective in generating income time and time again. To give an example of a deal that is customary, Amazon has promoted deals in years past for technologies such as 60% off mobile phones, up to 40% off TVs, and up to 70% off cameras. They have also discounted groceries, toys, and fashion amongst other things. Other well known regional retailers with similarly large deals are Elabelz, Sivvi, Namshi.
Here is a screenshot from amazon website during a previous White Friday. Browsing this image will certainly give you an idea of what sort of sales you can offer on your own products.
Let People Know This Is the BIGGEST Sale of the Year.
Companies sell everything from vacation deals to beauty items to pets. Whatever your product might be, it is important to let people know that this really is the BIGGEST sale of the year. Souq (Now Amazon) does this often in their promotions as seen below. Whatever you decide to go with, you must let people know that they will not be getting a better deal the other 361 days of the year. Language and size of font are important to the design of your image. You want to capture the attention of the potential customer with an offer they would be foolish to turn down.
Here is an example of a sale of up to 95% — what a great deal!
Start Broadcasting 5 Weeks Before.
Once you have outlined your White Friday offers, you can begin to schedule a social media plan. Marketing analysts have found that most searches for White Friday sales begin in mid-October, roughly five weeks before the event. Though you do not have to give away the sales, you can still advertise that there will be a big sale with big savings.
Tactics that have been proven to work include:
Creating and uploading a large, unmissable timer to the front page of your website counting down the time to the big day to increase subscribers' excitement for the sale.
Sending an email to the subscriber list with an "add to calendar button" letting them know in advance to prepare for the sales to come.
However, you can also choose to market during the White Friday period as well, as many are caught up in the spirit of the holiday and choose to make more purchases.
Use Red, White, and Black in your messaging.
For whatever reason, most advertising about this period is written about in block letters in these three countries. At this point, the colours and the period have become synonymous with each other. Looking at the examples below, you can see they all use a similar colour and font.
This image is extremely attention-grabbing with the megaphone included. It shows that this deal is something important and worth paying attention to!
Write "White Friday" or "الجمعة البيضاء"in Both English and Arabic on Your Site.
In order to attract and retain more customers, it would be extremely beneficial to set up an e-commerce page or simply an advertisement written in Arabic and English. For any non-English speakers browsing your site, you want to ensure they can understand your wonderful sales. Additionally, be aware that in Arabic numbers are written differently.
Arabic phrases are a large part of Muslim culture. To show that you are respecting the culture and the way people address each other, it could be beneficial to use a personal greeting when addressing your audience. Here are several examples of phrases you could use:
As-salāmu ʿalaykum: This greeting does not have a holiday specific meaning as this phrase means "Peace be upon you," and is a standard greeting among Muslims, whether in a social or worship context.
Ahlan (hello)
Marhaban (hello; greetings)
Ahlan Wa Sahlan (welcome)
Sabah al-Khair (good morning)
Masaa al-Khair (good evening)
Final Note: Given that many of these seasonal sayings are directly taken from Arabic which is a different alphabet, there could be variations in the English spelling of the phrases. However, the varied spellings are accepted and understood. If you wish to write in Arabic, there are many online translators that can help you do so.
The following advertisements have managed to incorporate both English and Arabic into an especially user-friendly advertisement. One is on Instagram and one is in the actual storefront: Both are important options to ensure the deal is seen and understood by as many potential customers as possible.
Offer Unique, Exclusive Deals.
As a slight followup to the previous point, it is also important to be savvy when deciding how to advertise. As more and more businesses will join onto the White Friday bandwagon, it is important to create and promote deals that will be distinguished from the rest of the pack.
Similar to the oversaturation of the market with Black Friday in the United States, customers could potentially be overwhelmed with the sheer amount of emails and promotions that are sent in this period. Rather than directly compete with factors like price or shipping where Souq has the upper hand, you should promote a deal to potential customers that are special to your company. The best way to diversify is to offer something potential buyers cannot find anywhere else. Unique deals (such as a free gift with a purchase) and free maintenance or warranties are all examples.
Partner With a Brick and Mortar Store.
Although the world is heading towards an increasingly interconnected reality, brick and mortar stores, especially in malls, are still the most dominant market in the Middle East. Malls throughout the Middle East represent more than a mere shopping experience. Malls in the Middle East provide a full entertainment and retail experience from movie theatres, aquariums, theme parks, ski hills, and thousands of shops — malls represent a lifestyle. Especially considering the influence of Islam and the impermissibility of alcohol in many places, spending Friday nights with your friends and family at a mall is a bonding experience.
In 2014, the Dubai Mall alone could accommodate 80 million visitors in total. It is accurate to say that e-commerce will not fully replace the concept of a mall but instead, it will join in to create robust investment and business opportunities in a multitude of fashions. Currently, only 1/4 of total businesses in the Middle East have any sort of online presence. Most White Friday shoppers are going in person to stores rather than merely shopping online. A wise business person should figure out how to either set up on the ground for this sales period or partner with a store on the ground for a productive two-way relationship. Ideas such as a pop-up shop, a shipping hub in the country, or a partnership with a previously established store could be implemented to capitalize on the large market that exists in person.
A White Friday advertisement for a Candy store in Egypt that only has a retail location.
Partner with an international retailer
Part of the reason that Souq.com (Now Amazon) achieved so much success in their 2018 White Friday period was because for the first time, they gave their users access to many thousands of deals listed as well in the Amazon Global Store and gave them a direct channel from the United States to the Middle East. Ronaldo Mouchawar, co-founder and CEO of Souq.com, told Khaleej Times in an interview, "When two great things come together, something even better is born. The combination of Souq's rich local experience with Amazon's 20 years of global online shopping experience has meant we have been able to provide our customers the best of both worlds. The impact on our business has been extremely positive."
Mobile Friendly
The usage rate of mobile phones continues to increase at a rapid pace throughout the Middle East proving that more and more customers are willing to make transactions from their phones. Applications should be user-friendly and ready to handle the sheer amount of traffic users will create in a day. While the number of users on a phone will not necessarily be higher than those on a desktop, the number is still significant enough to warrant it being made a major priority. In addition, many young people will find out deals through social media such as Facebook and Instagram and it should be ensured that they are able to make purchases. Items that are more geared towards a younger audience should especially be available to purchase through a mobile device.
Country-Specific Advertising
Before sending and broadcasting to all countries of the Middle East with a broad brush, it is important to understand the differences that will allow you to better advertise to those living there. Knowing country-specific trends about what people wear, do for fun, and how they unwind will help you create content with a much greater impact.
As an inside marketing tip, Amazon considers the "big three" markets to be Egypt, Saudi Arabia, and the UAE. As Mouchawar says, "These are our home markets, they have the same products and tastes so it is quite easy to have compatible products. And their income baskets are a bit higher."
It is highly recommended that you read more about e-commerce in specific countries. Istizada has numerous blog posts on country-specific marketing in the Middle East, such as for Saudi Arabia.
Create Deals With Banks and Credit Cards
Because the Middle East still does a lot of transactions with cash, companies have incentivized the use of credit cards and online money transfers with extra discounts. Souq.com(Amazon) added that its banking partners in Saudi Arabia, the UAE, and Egypt will offer monthly installments with 0% interest for purchases on the site. Souq.com(Amazon) also partnered with MasterCard offering a further 15% discount if their card is used.
Amazon Affiliates Program
For those unable to compete on the ground with selling to customers, there is another chance to make a profit. Whether you are a part of a network, a blogger/ vlogger, content site, influencer or an individual entrepreneur, the Souq.com Affiliates Program offers you a chance to earn a commission up to 10% by creating and promoting unique links that refer users to Amazon  and drive them to purchase something. For many people, an opportunity like this is much more realistic and plausible. It is a unique opportunity to be a part of the sales trend that is gripping the Middle East. Find out more information here.
A Chance to Win a Prize
A strategy that has worked for other vendors is to promote a sweepstake worth one entry for every item that is bought during this period. You can offer small things related to your company such as gift cards or merchandise or larger prizes such as travel or electronics. Souq.com (Now Amazon) has employed this tactic in years past and continues to offer such a great promotion. The thought of winning a prize really drives people to ponder their purchase to commit. You can also offer them more entries if they share your deals on their own social media.
Here are some other examples of White Friday advertisements that have been used by companies in the past:
This picture shows just how large the deals are. The water heater, for example, is sold for around 66% off.
Potential of This Day:
As previously mentioned, White Friday is expected to only keep growing in the next few years. For retailers, innovators, investors, and marketers, there is significant potential for you. It is estimated that online sales in the Middle East currently equals only a meagre 2% of the region's total retail revenue, as opposed to 15% in more developed regions.E-Commerce in the Gulf Stats is estimated to reach $50 billion in 2025, according to Statista. As a result, there is huge potential for e-commerce profit during this modern age in the Middle East. All six of the Gulf Countries fall within the top 34 wealthiest nations in the world. Qatar, named the wealthiest country in the world, had a 2013 GDP of $105,091 per person. Middle Eastern consumers also have the highest per capita spending on luxury items. It is clear that increasing internet penetration, emerging technologies, wealth, and innovation are changing the notion of business in the region. This period is evidence of that. As this is a still-evolving industry, knowledge and patterns surrounding it are also developing. Save your time and create insightful White Friday marketing campaigns with regional specialists at Istizada today.
To learn more about e-commerce in the Middle East, check out this complete guide.
Here are some examples of White Friday video advertisements posted to Youtube by Amazon:
As you can see, there is a range of personalities portrayed in the videos including sisters, a husband and wife, and friends all sitting together talking about the sale. These wholesome advertisements are good examples to follow when determining how to create your own White Friday marketing plan.
Here is also an endearing video from employees at Amazon to understand just how much fun this sale can be:
Written by: Jennifer Lundt
Sources:
https://www.arabianbusiness.com/retail/408278-souqcom-reveals-dates-for-white-friday-super-sale
https://www.thenational.ae/business/white-friday-event-aims-to-be-middle-east-s-busiest-online-shopping-day-1.456110
https://www.quora.com/What-is-the-concept-of-White-Friday-and-Black-Friday-in-E-commerce-What-is-the-advantage-of-these-events
https://www.newsweek.com/black-friday-middle-east-jeff-bezos-white-friday-sale-523959
https://www.tahawultech.com/industry/retail/more-than-two-million-deals-await-souq-com-white-friday-shoppers/
https://choice.npr.org/index.html?origin=https://www.npr.org/2014/11/30/367544513/in-dubai-shoppers-hit-the-malls-for-white-friday
https://arabiangazette.com/middle-east-biggest-white-friday-2016-souq-com/
https://www.paldf.net/forum/showthread.php?t=1201451
https://www.balaash.net/3orod-saudi/carrefour-saudi-offers/
https://www.vetogate.com/list/3637
https://gulfnews.com/business/retail/white-friday-on-november-25-1.1930745
https://www.facebook.com/SpunCandyEgypt/photos/a.1151130824928101/1758059307568580/?type=3&theater
https://affiliates.souq.com/home
https://www.samaa.tv/economy/2017/11/85-off-massive-white-friday-sale-starts/
https://www.cntravellerme.com/tags/white-friday-uae
https://www.offerizer.com/offer/infiniti-dubai-white-friday-promotion/
https://tribune.com.pk/story/995896/online-vendor-introduces-white-friday-because-friday-is-never-black/
https://black-friday.global/en-ae/souq/
https://www.khaleejtimes.com/business/retail/souqcom-goes-global-at-this-years-white-friday-fest–
https://www.arabianbusiness.com/transport/416102-rapid-company-expansion-caused-white-friday-delays-says-fetchr-ceo
https://menafn.com/arabic/1098782217/