Saudi Arabia's digital landscape is booming with opportunity due to its young population and high rate of digital connectivity. To help advertisers navigate this market, this comprehensive guide explores key factors critical to Saudi Arabia advertising success, including demographic and cultural considerations, compliance and regulatory processes, and effective paid advertising channels.
Demographics and Internet Connectivity in Saudi Arabia
Saudi Arabia is the largest country in the Arabian Peninsula with over 36.33 million inhabitants. With a median age of 30 (9 years younger than the U.S. and 14 years younger than Europe), the Kingdom boasts one of the highest internet adoption rates in the Middle East, with over 99% of the population having internet access. With a high smartphone penetration rate of 92%, mobile devices are an increasingly significant driver of website traffic in Saudi Arabia (72%).
Like other countries in the Middle East, there is a low ratio of women to men, with an even smaller percentage of these women active in the workforce. However, due to Crown Prince Mohammed bin Salman's reforms, women have experienced greater visibility in society over the last 7 years, as they are allowed in public areas without a male guardian, receive a driver's license, and obtain employment in newly accessible industries. The working female population continues to grow rapidly, reaching 37 percent in 2022, up from 17 percent in 2017. As women's purchasing power and visibility increase, advertising media should reflect this cultural shift while respecting religious and traditional customs.
Paid Advertising Content
As marketers navigate this dynamic landscape, various paid advertising channels such as pay-per-click (PPC), social media, OOH, and television offer versatile ways to create impactful campaigns that resonate with the audience. In Saudi Arabia, successful advertising campaigns require a localized approach that reflects the language and culture. Since more than 80% of the population speak Arabic and many study English as a second language, creating content in these two languages, along with featuring culturally relevant visuals and references, is crucial.
In addition, festive seasons like Eid offer opportunities for creative campaigns that celebrate the country's cultural heritage. In 2023, reports show a 44% increase in customer spending during Ramadan and a 46% increase in spending on Eid Al-Fitr gifts. This increase translates to a significant surge in online activity and app downloads. When asked which factors influenced customers' decision to purchase during Ramadan, 38% of customers preferred brand advertising to be inspired by the spirit of the month focusing on charity, culture, and religion, while 50% centered on promotions and offers. For marketers, this presents a valuable opportunity to leverage paid ad targeting strategies highlighting sales alongside family values, charitable activities, and community bonding.
Paid Media Laws and Regulations in Saudi Arabia
As a strictly governed Islamic country, religion is at the forefront of Saudi nationals' day-to-day life, and regulations for advertising campaigns are designed to honor that culture. In recent years, the Saudi Communication and Information Technology Commission (CITC) has implemented rules governing advertising across various mediums, such as commercial broadcasting, radio, e-commerce, digital advertising, and social media.  CITC's ultimate goal is to ensure that commercial entities are properly licensed, respect privacy laws, and produce media that adheres to cultural sensitivities and Islamic principles.
Advertising Content Regulations
The CITC in conjunction with the General Authority for Media Regulation (GAMR), requires advertisers to submit campaigns and media to this regulatory body for approval before broadcasting, digital or offline display. In order to avoid rejected campaigns, marketers must be familiar with the key Islamic guidelines governing advertising content, including religious restrictions on alcohol, pork, gender portrayal, modesty, and symbols.
Article 9 of Media Law lists media content that may not be published, which includes any media that:
a. prejudices the principles of Islamic Sharia or the supreme interests of Saudi Arabia;
b. threatens national or international peace;
c. instigates the committing of crime or violence, breaches national security, public order, public morals or public health;
d. infringes the rights of others;
e. instigates racism, national or religious hatred; or
f. promotes drugs, alcohol or tobacco
Restrictions are also issued from additional divisions, such as the Saudi Food and Drug Authority. For example, the SFDA strictly regulates and has banned the marketing of claims around nutritious food products. While used commonly in Western advertisements, advice from doctors, specialists, and health influencers is forbidden in advertising materials, along with reference to diets and potential health benefits. It is recommended that marketers verify whether their campaigns meet each respective regulatory body's standards before launch.
The "Mawthooq" Program
In recent years, the CITC introduced regulations to govern influencer and foreign commercial marketing activities in Saudi Arabia under the "Mawthooq" program. Advertising approval will be granted only to those who work under a commercial entity that possesses the right license and legal documents to practice advertising. Non-Saudi residents and visitors to the Kingdom have also been prohibited from posting ads on social media without a license, even though their own personal branded accounts. In addition, Saudi businesses are not allowed to contract, advertise, or host events with unlicensed non-Saudi advertisers or celebrities outside the country. Those who ignore the ruling face a possible prison sentence and hefty fines.
This has a significant impact on influencer activities in Saudi Arabia, as influencers are required to obtain licenses and adhere to specific content guidelines. Marketers collaborating with influencers or celebrities for paid endorsements must ensure compliance with these regulations and verify the influencer's licensing status before partnering with them. Transparent disclosure of paid partnerships is also required by law and provides an additional benefit of maintaining authenticity in endorsed campaigns, which is crucial for building trust with the audience. Ultimately, these regulations aim to ensure transparency and accountability in marketing activities across the Kingdom.
Data Privacy and Protection
Saudi Arabia implemented the Personal Data Protection Law (PDPL) in 2020 to safeguard individuals' data. Under the PDPL, marketers collecting and processing personal data are required to obtain explicit consent from individuals and inform them about the purpose, scope, and duration of data collection. According to the law, marketers must also implement appropriate technical and organizational measures to protect the data against unauthorized access, disclosure, alteration, or destruction.
The law also grants Saudi residents several rights, including the right to access their data, request its correction or deletion, withdraw consent, and object to the processing of their data for any reason. Commercial entities are bound to respect these rights.
As a business, implementing robust data protection measures in advertising is crucial for gaining the trust of consumers and remaining compliant. Communicating privacy policies and adhering to best practices in data handling can help establish a positive brand reputation and build consumer trust.
While the number of restrictions may seem daunting, the immense opportunity in this country is worth overcoming the regulatory hurdles. Marketers should familiarize themselves with the regulations, build in time for the necessary licensing and approvals, and consult with a local agency as marketing campaign strategies are developed for Saudi Arabia.
Paid Advertising Practices for Saudi Arabia
According to Statista, Saudi Arabia's total advertising spend reached $2.01 billion in 2023 and is projected to grow over the next 5 years. Digital Ad spend grew almost 20% in the last year alone and makes up a significant portion of total spend, amounting to $1.56 billion. This growth indicates the increasing significance of digital advertising across the country's marketing landscape. Offline channels, such as OOH, Print, and Television constituted 23% of total ad expenditure in the Kingdom. Let's delve into each of these channels and explore how they are harnessed by marketers in Saudi Arabia's thriving digital market.
Paid Search & Display Advertising
As a digitally connected country, it's no surprise that search marketing plays an important role in driving awareness and traffic share for companies of all sizes. Search marketing in the Kingdom consists of more than one-third of overall digital ad expenditure, accounting for almost $746 million in ad spend this year. This spend is expected to increase at a fast rate over the next 5 years.
The paid search landscape in Saudi Arabia is observed to be less saturated than in the United States, leaving immense opportunity on the table for advertisers to capitalize on affordable ad placements. According to Statista, the average cost of PPC ads in Saudi Arabia is lower than in other MENA countries, with each click costing $0.88. Lebanon has the next highest CPC at $0.94, with Kuwait having some of the most expensive CPCs at $1.35.
Throughout customers' online journey, Google Search is considered a top destination, with 94% of Saudi shoppers using it to research product information, followed by Bing. Kantar Consulting reports that nearly 100 percent of consumers in the Kingdom research products online before purchasing
While PPC ads are effective for capturing Saudi users with high intent and driving immediate actions like website visits or conversions; on the other hand, display advertising is ideal for building brand awareness, reaching a broader audience, and creating a long-term impact by engaging users throughout their online journey.  By utilizing Arabic & English ad copy and precise targeting, advertisers can leverage a variety of ad formats that meet their customers primed to take action, ranging from text and image to Product Listing Ads.
In one example, Saudia Airlines is highly active with over 500 ads in their library. This mixed media campaign leverages both text and rich media placements in Arabic and English, inviting audiences to take action and book a flight on their website.
Similarly, Carrefour is running a mix of mobile text placements, static images, app download, and product advertisements on Google, aimed at driving mobile traffic to both their app and website.
Lastly, Saudi Arabia Investment Bank is catering solely to an audience of Saudi Nationals, featuring all of their ads in Arabic designed for desktop viewing. In addition to standard PPC text ads, video display placements were used, featuring short animated renditions of their static image placements.
Social Media Advertising in Saudi Arabia
As one of the most digitally connected countries in the world, it is unsurprising that Saudi residents spend on average 3 hours per day on social media platforms. Ad spending has increased significantly year over year to reach these connected audiences, reaching a projected $399.80m in 2023. However, unlike the U.S, where more than half of Instagram and Facebook's users are female, these platforms in Saudi Arabia are dominated by males, reflecting the general population statistics. While the gender gap is shrinking among the younger generation, there is still a huge gender gap in users over 25.
Whatsapp is the primary communication app in the country with 22.33 million users, and Instagram is close behind with 20.49 million users. TikTok has also gained significant popularity among Gen Z, with 18.04 million users located within the Kingdom.
Given that over 1/3 of social media users in Saudi Arabia are in a high-income group, marketers should consider using advanced demographic and interest-based targeting options to reach users with higher purchasing power. While YouTube has the highest potential paid reach in the country and low CPMS ($0.33-$1), Tiktok is emerging as a notable presence, with a potential reach of 71.9% at a higher average CPM of $1-$3. Facebook and Instagram still offer a highly active audience of 10.75 million and 12.45 million respectively. On Facebook, these CPCs are on average 16% higher than the US at $0.42 while CPMS cost 60.83% less than in the US at $2.63.
Reels and short-form videos are growing in popularity among audiences, and account for 30% of time spent on the Meta-owned platform. Like all other forms of media, creating culturally aware video content on social media is crucial for capturing the audience's attention and making a statement.
For example, AlMunayes' social media video series gained accolades through conveying the essence of "The Sound of Tea" during the holy month of Ramadan. Laws are in place during Ramadan preventing the portrayal of food and beverage consumption out of respect for fasting Muslims. However, by using "slurping" audio effects to evoke familiar cravings for a welcome cup of tea, these social media ads cleverly skirt restrictions while still making an impact.

Another beverage company, Lipton MENA, recently debuted their zero-sugar bottled tea. They are running targeted colorful short-form clips across Facebook and Instagram featuring vibrant young men and women ushering in change with the slogan "Zero Sugar, 100% Taste". All of the cast are compliant with the Islamic content regulations provided by ­­­the ministry while donning fashionable attire and a modern aesthetic.
Carousel Placements
Local businesses such as Hotpack, Roka Toy, and AlMalika, are among many brands that use Carousel placements for product ads. Carousel Ads achieve high conversion rates on average, outperforming Single Image and Video Ads by 20% and 25% respectively due to their flexible and interactive nature. These ads feature Arabic text and context relevant to a Saudi audience.
Audio Advertising
The Audio advertising landscape in Saudi Arabia has transformed in recent years, with the rise of audio streaming services. While traditional audio advertising, such as radio commercials, remains the predominant medium, accounting for 71% of Audio ad spend, it has faced a steady downward trend since 2017. Streaming services, like Spotify, are popular among younger generations with over 4.72 million listeners, representing a small but growing segment of users.
This is an example of a popular radio advertisement for Lama Oile, featured on Panorama FM, which cleverly mimics tunes commonly played on the radio to capture listeners' attention. By using familiar Arabian notes and catchy jingles, the ad creates a memorable and engaging experience for the audience, making it more likely to resonate and leave a lasting impression.
Television Advertising
Television remains a popular medium for reaching a broad audience in Saudi Arabia. Ad spending in the Traditional TV market is projected to reach US$10.82m in 2023, though is expected to have a slower annual growth rate than digital platforms, at an estimated 1.80% per year. The average ad spend per TV Viewer is $0.47 in 2023, which is more expensive than some digital placements.
Statistically, the viewing demographic is skewed towards an older audience, with a large percentage of Millennials and Gen X still tuning in to traditional TV (59.4%). Only 12.6% of Gen Z watch television, and the older generations report even lower usage at 8.6%.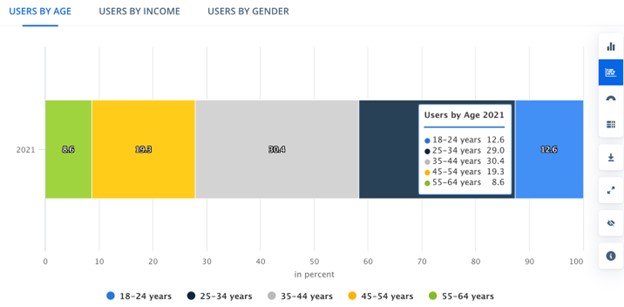 Marketers can leverage local TV channels to broadcast their ads during primetime slots or popular shows, ensuring maximum visibility. Careful consideration of content, cultural sensitivities, and language is crucial for effective television advertising in Saudi Arabia.
A recent popular example was launched by Abdul Latif Jameel Motors, a large car dealership. What sets this campaign apart is its focus on avoiding cliches that most Ramadan commercials usually feature. The film showcases cast members in different Toyota vehicles, each with unique backstories. No food consumption is displayed in the advertisement, and all of the characters are dressed modestly in alignment with Islamic customs.
Outdoor Advertising
Outdoor advertising, including billboards, digital displays, and street advertising, still plays a significant role in Saudi Arabia. Ad spending in the OOH Advertising market is projected to reach US$149.80m in 2023, with the costs per viewer averaging $4.06. These costs are expected to rise by 5-15% as digital placements become more competitive.
The wide reach and visibility of OOH ads in bustling streets, public transportation stations, malls, and airports ensure extensive brand exposure. Integration with other advertising channels, such as TV, digital, and social media, also serves to enhance brand visibility and create a cohesive brand experience, while boosting brand visibility and reach. Saudi Arabia's vast cityscapes offer many opportunities for localized campaigns, enabling both traditional and unique platforms to feature brand creatives.
For example, Panda's supermarket chain recently launched an engaging OOH and Digital campaign during the holy month of Ramadan. The campaign celebrated the opening of Panda's newest store and cleverly positioned the brand as an integral part of family and friends' gatherings with the tagline: "جاية في أي تجمع" (Coming to Every Gathering). By incorporating imagery like the crescent moon and Islamic arches, the campaign captured the essence of Ramadan, resonating with customers and reinforcing Panda's brand association.
In another example, a local newspaper, Ariyadiyah, collaborated with a local agency on a TV and street advertising initiative aimed at raising awareness about obesity among Saudi Nationals. The campaign cleverly associated their sports column with places of exercise by plastering basketball courts around the city with their newspaper. Ariyadiyah not only captured the attention of the male youth but also featured women prominently in ads, showing how their outdoor placements can be seamlessly integrated into the daily lives of a diverse audience. The strategic placement of these interactive courts in high-traffic areas provided ample opportunities for active engagement, inviting passersby to participate and have fun while also receiving an important reminder about the health crisis.

Video to download: https://www.adsoftheworld.com/campaigns/newspaper-courts
Print Advertising
According to Statista, print media still holds relevance in Saudi Arabia, although it faces a downward trend. Print ad spend dropped 3% in 2023, and is expected to decline through 2027. The largest category is Newspaper Advertising, with over $336.90m in projected spend for 2023. The average ad spending per reader is also higher than other categories and amounts to $56.95 in 2023.
According to Statista, reader viewership is also on the decline, down to a reach of 5.92M in 2023. However, marketers can place advertisements in popular publications to target specific demographics or geographic regions. Careful selection of print media outlets and ad placement can ensure effective reach among the right audience.
Saudi Arabia's latest campaign for IKEA is quirky and offers an immersive experience, designed to promote IKEA's biggest annual sale in Saudi Arabia and Bahrain. The campaign features older Saudi homes filled with 80s floral prints, bright wallpaper, antique sconces, and old furniture. In each setting, the campaign features a unique take on traditional clothing and serves as a reminder sometimes old styles can "wear you out", inviting audiences to redecorate their spaces. Like other offline mediums, this type of placement was part of a comprehensive campaign, featuring social media videos, YouTube ads, and TV spots.
Key Takeaways
With a young and highly digitally connected population, Saudi Arabia offers a promising consumer landscape, providing immense opportunity for greater brand visibility, engagement, and growth. Businesses can leverage a mix of online and offline mediums to reach their target audiences effectively and cater content based on their preferences and cultural background. While success in this market requires a deep understanding of religious sensitivities and compliance with strict regulations, advertisers should consider tapping into the immense potential that Saudi Arabia advertisng has to offer.
Written by: Sidney Mattys
Sources: