Middle East Billboard Advertising & Outdoor Ads
Are you looking to get you message seen in Middle East markets? Billboard advertising is one of the most effective ways to get your message seen by a wide audience. Many of the Gulf marketing today are incredibly wealthy and Middle East billboard marketing is a powerful way to get in front of consumers in this booming market.
Types of Billboard Advertising in the Middle East
There are a variety of types of billboard advertising throughout the Middle East from small indoor placements to very large outdoor advertising placements, from static billboards to large digital billboards.
Wide Overpass Billboards
Wide overpass billboards are great because they can be seen for several seconds as drivers see them in the distance to the point that they go under the sign. This format is very common in places like Dubai, Abu Dhabi, and Riyadh among other cities.
Lamp Post Signs
Lamp post signs are a great format because of their smaller size these advertisements often a purchased in a series of 10 or more post sign advertisements in a row. This allows your audience to see your ad several times which can increase their likelihood of remembering the ad.
Building Face Billboards
The Middle East is particularly famous for massive billboards and advertisements on the sides and faces of buildings. These advertisements are particularly hard to ignore due to their size. They can also be seen from very far away in many cases too.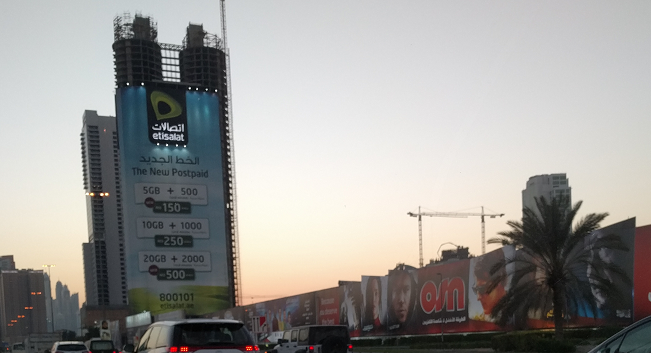 Extra Wide Billboards
Extremely wide billboards on the side of the freeways are growing in popularity around the Middle East, especially in places like Dubai where hundreds of thousands of drivers across a total of 16 lanes get stuck in rush hour traffic every day. These expensive billboards can get maximum exposure for companies with the marketing budget for it.
Airport Billboards
Many airports throughout the Middle East are full of advertising placements that are seen by visitors arriving or leaving the country. If you're looking to make a first impression on visitors to a new city, this is one of the best places to do so.
Differences in the Middle East billboard advertising
The main differences in many Middle East markets for billboard ads the lack of regulation like in other markets. You will find in many markets throughout the region that ads are extremely distracting to the point it could be dangerous for drivers. Digital billboards not heavily regulated are not as heavily regulated in regards to size as they are in other parts of the world. That said the content of billboards throughout the region is heavily regulated given Muslim decency laws in many countries in the region.
Key cities in the region you may consider advertising in
Abu Dhabi
Doha
Manama
Muscat
Beirut
Amman
Alexandria
Pricing and rates
Pricing varies significantly for ad space throughout the region but it most cases you can't get much with less than $10,000 USD and many ad placements in prime locations can cost more than $1 million USD.
Keys to Effective Billboard Advertising
Arabic Language
In most countries throughout the Middle East marketing in Arabic is essential to being able to connect with your audience. Most of the regions native language is Arabic so in most cases your ads will need to have some Arabic.
Localized Imagery and Messaging
Localized imagery and messaging is key to success in the Middle East. Brands that adapt their ads to the consumer behavior of Arabs are much more likely to be successful. Check out our blog post on Arab consumers to learn more about this topic.
Location
A great out of home ad in the wrong location is worthless. Before deciding where to place your ad we must first determine if the location is going to get your ad in from of your target audience. For mass market products and services this is relatively easy but for more niche products this is a little more complicated.
Alternatives to billboard advertising in the Middle East
If you've exhausted other marketing channels or you have a very broad Arab demographic to market to, outdoor advertising makes sense. However, if you are just getting started with marketing in the Middle East many other marketing channels can be less expensive and have a higher ROI. Here are some the marketing channels we've found have the best return for many clients.